As one of the university projects, I designed and constructed a transformer and AC-DC power supply which I have presented a summary of my work here:
The first step in transformer construction was to prepare the bobbin. The primary coil was using #28 AWG wire, with an expected 470 turns (67 per layer, for 7 layers) and a single layer of insulating tape between each.
Attributes & Constraints of the product
Input: 3 prong wall connection, 120V, 60 Hz AC, range: 100 V≤ Voltage ≤ 126 V
Output: Regulated 15V DC (± 3%), 30W (Banana connectors)
Safety: Transformer (isolation), Fuses (at In/Out), Surge protection
Line regulation: 3%
Load regulation: 3%
User friendly: ON/OFF switch, LED indicator, 3 prong wall plug
Reliable: Follows the Regulation
Efficient: Minimize components
Economical: low cost of components
Functional Block Diagram
Morphological Chart
Detailed Design
Input/Output

Banana plug terminals (positive/negative color coded)
Input fuse, Fuse holder
Output breaker

ON/OFF switch (postponed to final product)
Indicator

Yellow LED with 1.5kΩ resistor

Step down/Isolation (Transformer)
The coil was then covered with three layers of insulating tape to separate it from the secondary coil.
The secondary coil was wound using 20 AWG wire, which was originally calculated to have 88 turns (29 per layer, for 3 layers).
Bill of Materials
Bridge Rectifier – Vishay/General Semiconductor, KBL01-E4, QTY: 1, price: $1.11
Filter Capacitor – Cornell Dubilier Electronics (CDE), 338-1626-ND, 4700μF, 50V Alum, QTY: 1, price: $2.75
Volt. Regulator – LM2576T-15-ND , LM2576-15, QTY: 1, price: $3.86
Inductor – Pulse , 553-1574-5-ND, 220μH, QTY: 1, price: $4.12
Capacitor – Panasonic – ECG, P5156-ND, 25V, 1000μF, QTY: 1, price: $0.76
Diode – ON Semiconductor, MUR410RLGOSCT-ND, 100V, 4A, Ultra-fast, QTY: 1, price: $0.73
Heat Sink – Ohmite, WA-T220-101E-ND, QTY: 1, price: $1.77
Fuse Holder – Littelfuse Inc, F1497-ND, QTY: 1, price: $1.29
Fuse – Littelfuse Inc, F2541-ND, QTY: 5, price: $ 1.08
LED – Vishay/Semiconductors, 751-1116-ND, QTY: 2, price: $ 0.49
Resistor – Panasonic – ECG, P1.5KBACT-ND, QTY: 1, price: $ 0.11
Breaker – Tyco Electronics, PB1068-ND, QTY: 1, price: $ 2.85
Filter Cap – Panasonic – ECG, PCE3898CT-ND, 100μF, 25V, QTY: 1, price: $ 0.73
Total: $21.65
Preliminary Testing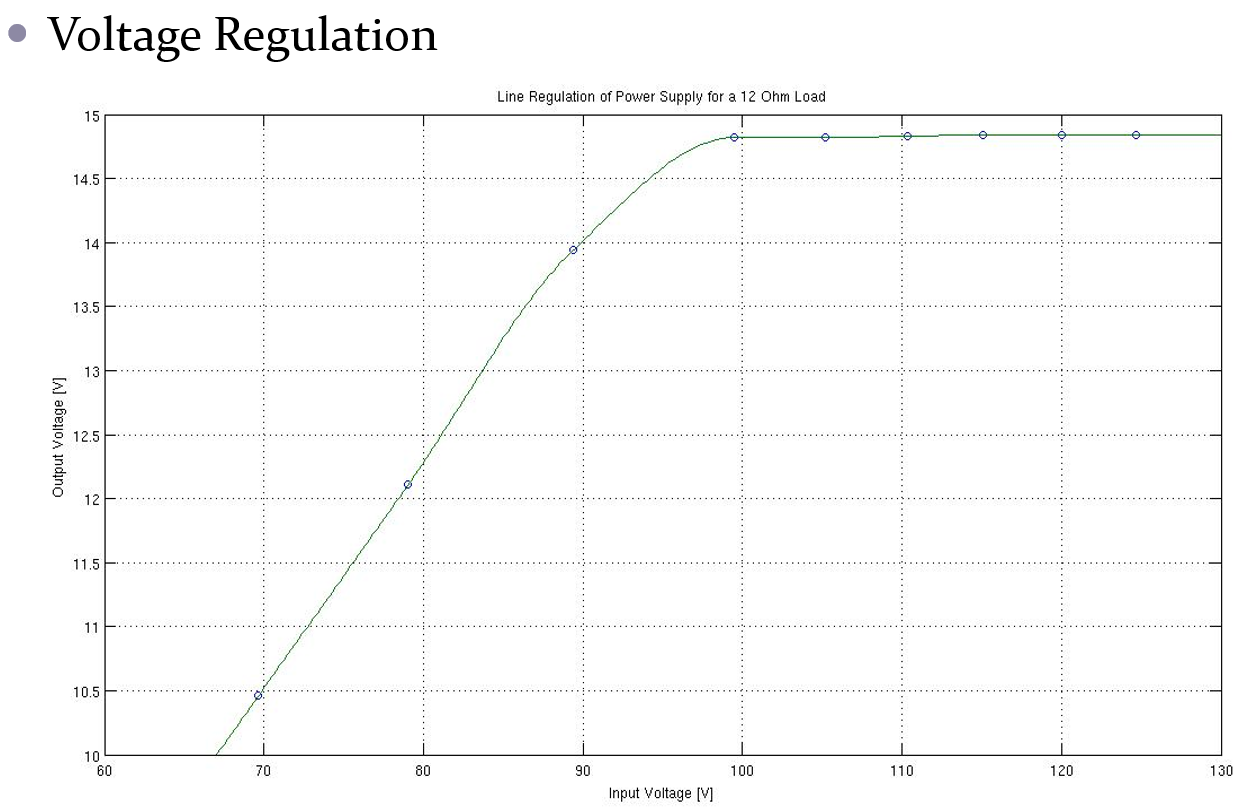 Applicable Standards
CAN/CSA-C22.2 no. 231 series-M89

Transformer
Fuse Holder
Connectors
Conductors

C22.1-02 C22.1AB-02

Grounding
Class 1 & 2 Devices
Protection
Testing and Documentation
Prototype testing was carried out using two digital multimeters (DMM) and an AC power meter. The testing configuration is summarized in the figure below. An AC power meter was used to simultaneously measure input voltage and current from a Variac to the power supply. Two DMM are used to measure the corresponding output voltage and current. Variable loading was achieved by connecting one of many available resistor modules to the power supply output, including a rheostat (0-12 Ohm) and a resistor bank (100-900 Ohm). These modules were also combined to create a greater number of test cases. No load measurements were also recorded.
​Voltage regulation may be determined using measurements at the rated, minimum and maximum conditions. Line regulation is given by​
and the load regulation is given by
Where:
Vo(Vi,max) – Output voltage when the input is 126 VRMS.
Vo(Vi,min) – Output voltage when the input is 100 VRMS.
Vo(Vi,nl) – Output voltage with no load connected.
Vo,rated – Rated output corresponding to nominal input voltage of 115 VRMS.
The resulting line regulation and load regulation calculation give LR = 1.26% and LDR = 1.36% at the rated output voltage of 14.95 V.
The efficiency, η, is calculated as the output power over the input power,
Note that the input power requires the inclusion of cosφ, the power factor, in order to calculate the real power. The product of output voltage and current gives the real power, since both the current and voltage are in phase.